WordPress Update 5.5.3 Broke my Website
Helping others to help themselves…
Published:
I always make backups of my website before upgrading WordPress, but this time, I decided not to bother and sure enough, Murphy's law struck – it broke my website! This article explains how I fixed it without a backup. The process wasn't easy to find, so I hope this Step by Step helps you out.
Warning about WordPress Update v5.5.3-en_AU
It had been a while since I'd upgraded WordPress, so when I saw an update to Version 5.5.3 was available, I hit the Update Automatically button as I always do. Only this time, I didn't bother testing the update on my Staging Site, nor did I do a backup first. What a mistake that turned out to be!
Once the update completed, I immediately noticed the following problems;
 
The Fortuna theme I use was behaving erratically.
My Testimonials page no longer worked. That was my biggest concern as I consider that to be the most valuable page on my site.
The menu layout of the Home Page was all screwed up.
All sliding aspects of the site no longer worked.
A few posts and pages had mysteriously disappeared. I checked via FTP and they were still there.
One of my favourite plugins, Slider Revolution, no longer worked and just displayed an error.
 
So now without a backup, how to go back to the WordPress version I upgraded from, being v5.4.2?
 
I could restore an older backup, but I would have lost too much information doing that, so I had to hunt around and find a way to go back to my previous version of WordPress manually. It took a lot of searching and trial and error attempts that didn't work, so having finally worked out a fix, I decided to write this article in the hope of saving others wasting the many hours that I did.
 
Here's how to fix it
Step 1
Made a backup of the broken site – lesson learnt!
I then obtained and downloaded a copy of the needed version of WordPress v5.4.2 from the WordPress.Org Releases Website and unzipped the contents into an empty folder on my PC.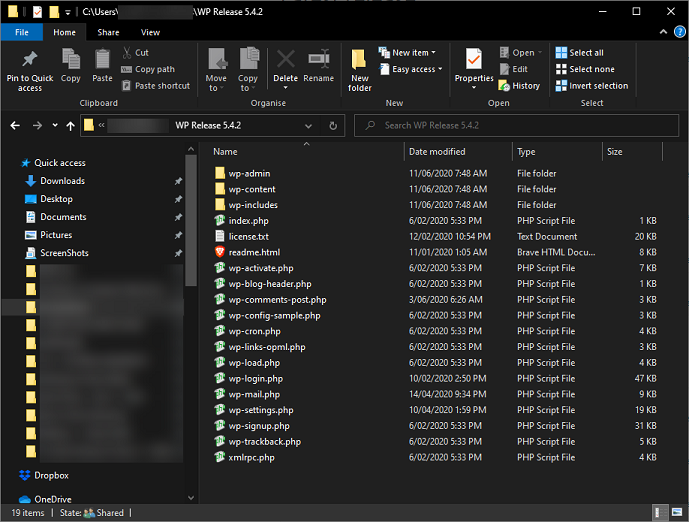 Step 2
Use your WordPress administrator account to log into your live wp-login.php administration console.
Important!  Select and Deactivate all of your WordPress plugins or the process will fail. (I learnt that lesson the hard way)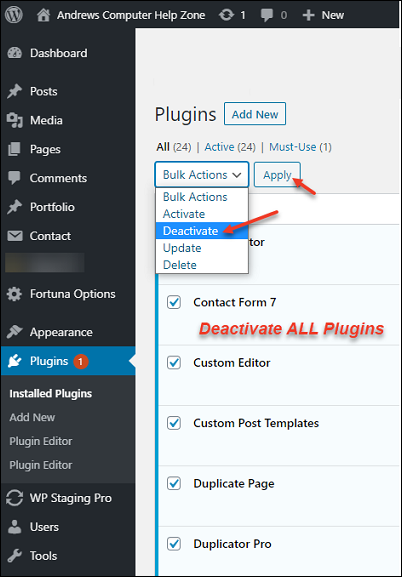 Once that's done, log out of your WordPress Administration console and move on to the next step.
Step 3
Use your preferred FTP file manager (I used my favourite File Manager software (Directory Opus) and utilised its FTP module) to log into your website host and delete the following two folders (wp-admin and wp-includes) as shown below.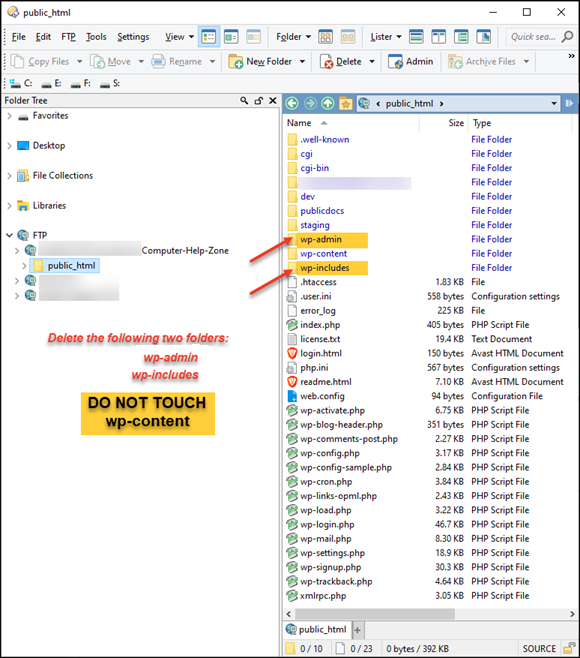 Step 4
Once done, upload (via FTP) both of those folders and the highlighted files shown below to your live site; as well as all the other files as shown below. If your FTP software asks if you want to overwrite any files, answer Yes and overwrite them.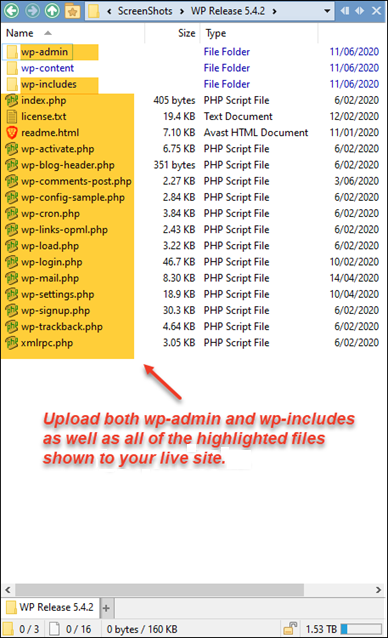 Step 5
You're now on the home stretch. Log out of your website host and close down your FTP software, you shouldn't need it again. Now log back into your WordPress administrator account in your live wplogin.php administration console. Your WP administrator login credentials will not have changed.
Using the same process as Step 2 shown above, do the reverse to what you did earlier and this time re-activate all of your plugins again.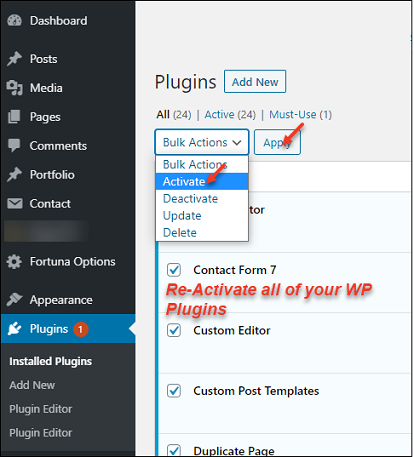 If your experience mirrors mine, you will now be running on the previous version of WordPress you were on before updating it to the latest version.
Log out of the WordPress administration console and then log back in again and you should see the familiar request to update WordPress message as you did before this entire nightmare started.


Check your Live website online again now and you 'should' find all is well again. All the problems that happened after the upgrade will now be gone, missing items returned, and everything is working just as it did before the upgrade broke your site.
The Final Step
Now don't make the same mistake that I made and backup your working installation immediately. Backup your working WordPress site before applying 'any' update in future! I always backed up before upgrading for years and never had a problem, yet the one time I didn't, Murphy's law kicked in and reminded me that being slack can cause you many hours of grief! 🙂
I hope you got some value out of this article. If you think it was helpful, please do take a moment to click the Thumbs-Up icon to endorse it. Thanks very much. Regards, Andrew.